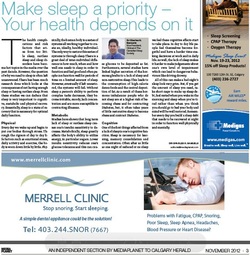 Our client, the
Merrell Clinic
, was prominently featured in a recently published "Sleep" report in the Calgary Herald.
Marketing Directions
worked closely with MediaPlant to purchase and develop the advertisement.
Check out the full report here:
http://doc.mediaplanet.com/all_projects/11455.pdf
For more information regarding sleep apnea and other sleep health issues contact the Merrell Clinic and check out their website:
www.merrellclinic.com
Stop snoring Start sleeping!